Kim Meninger: President

As a certified executive and leadership development coach, Kim Meninger empowers individuals and organizations to reach their full leadership potential. Kim has coached hundreds of clients and has presented on career advancement and leadership topics to corporate, non-profit and academic audiences, including Pfizer, Fidelity Investments, GE Healthcare, Harvard University Women in Technology and many others.
Before coaching, Kim held a variety of cross-functional leadership roles in the high-tech industry where she experienced first-hand the unique challenges and opportunities facing women in the workplace. She is passionate about helping women leaders to develop their confidence, visibility, and influence to maximize their impact and advance their careers. Kim has a BA in psychology and an MBA from Boston College. She is an ICF Associate Certified Coach and CCE Board Certified Coach with certifications in career, executive and leadership development coaching. Kim also holds a certificate in Executive Leadership from Cornell University. In addition to her involvement with the Women Accelerators Lowell Chapter, Kim serves as president of the Groton Business Association, Global Director of Client Relationships for WITI, Chair of Alumnae Initiatives for the Council for Women of Boston College, and Co-Chair of the MassTLC Women's Peer Group. She lives in Groton, MA with her husband and two young boys.
Debby Fowler: Vice President
Debby Fowler grew up in central Massachusetts and attended UMass Lowell for her bachelor's degree in Mechanical Engineering, which she received in May 2018. Currently, she is a graduate research assistant in the Structural Dynamics and Acoustics Systems Laboratory at UMass Lowell, where she is pursuing her Ph.D. in Mechanical Engineering supported by the NSF Graduate Research Fellowship Program. Her research focuses on experimental nonlinear structural dynamics, test data expansion, and damping estimation. She is passionate about STEM outreach, as well as developing vibrant spaces for women to empower and support each other.
She is the founder and President of the Graduate Society of Women Engineers and a former Vice President of the Society of Women Engineers at UMass Lowell. She is excited to be involved with growing the Lowell chapter of Women Accelerators.
Jodie Bruneau: Communications Chair
Jodie is an Associate Managing Editor at DynaMed in Ipswich, MA, where she leads content development projects to support clinical decision making. In her current role, Jodie works with a multidisciplinary team of clinicians, medical writers, and editors to maintain an online clinical reference database to help busy clinicians find the best available evidence to help them manage their patients' health.
Before joining DynaMed, Jodie was a Postdoctoral researcher at UMASS Medical School, working under an NIH Career Re-entry grant supplement. Jodie received her Masters and Doctoral degrees from Trinity College, Dublin. A Lowell native, she looks forward to networking with other like-minded women to foster career development and support in the area.
Miriam Margala: Lowell Chapter Chair
Miriam Margala, PhD
: In both her academic and professional careers, Miriam's interest has always focused on gender equality. What started off as research of gendered and androcentric language use and communication, soon developed into practical involvement with and passion for helping women to achieve equality. She holds a dual PhD in English and Linguistics (University of Rochester) where one area of her expertise is communication and gender. Miriam has presented and published on the topic nationally and internationally.
Miriam teaches at the University of Massachusetts at Lowell. She also works in the areas of art and literature both in the US and Europe and through her work continues to research and be actively involved with gender issues as they relate to professional, social and cultural aspects of communication.
In her free time, Miriam enjoys singing – any genre – and performing with her chorus. Wherever she finds herself, she looks for galleries, museums, theatres and performance places to visit. Miriam enjoys a good power walk, especially very early in the morning when it's accompanied by a beautiful sunrise.
Robin Rose: Mentoring Program Executive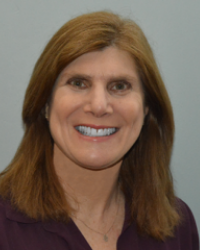 Robin is a customer-focused operations leader with extensive experience creating and delivering inventive business strategies and client-focused solutions that improve margins and increase customer retention. For over 20 years she has worked with companies in the software and services industry helping them establish process and create efficiencies to improve business outcomes. She is passionate about optimizing the customer journey to provide a best-in-class experience, aligning customer's expected outcomes to build adoption, create delighted brand ambassadors, and develop new business opportunities.
An engaging communicator and relationship builder Robin enjoys unifying diverse resources and cultures to build high-performing teams. She has a strong interest in empowering women in the workplace, and is a member of several boards charged with supporting women, particularly in their local communities, and increasing leadership opportunities.
Robin graduated from Trinity College with a BS in Computer Science and a minor in Psychology. She is a voracious reader, local sports fan and loves to travel.